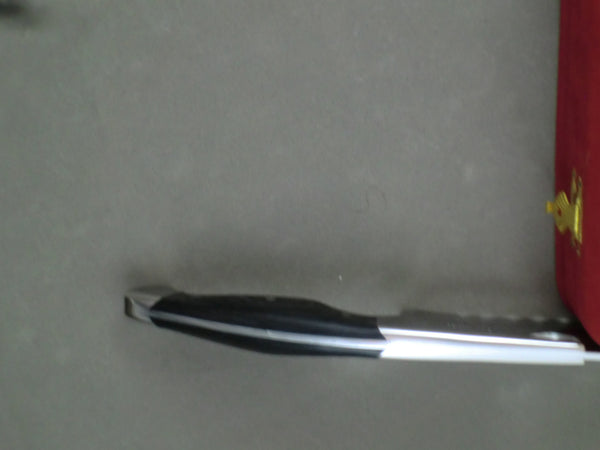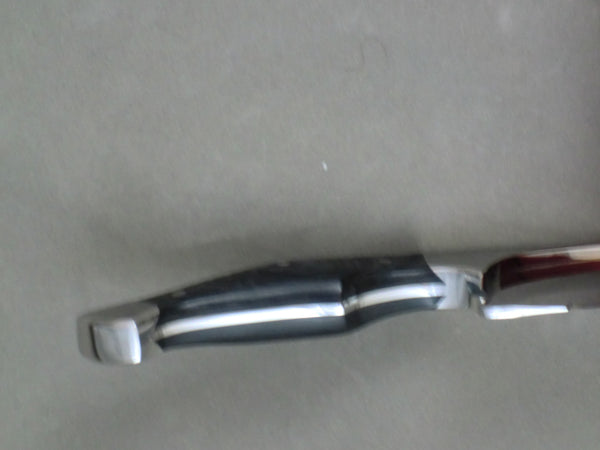 Zombie Killer Bread Knife (Böhler 440C Differentially Tempered Stainless Steel)
Regular price
$195.00
Sale price
$175.00
---
Tactical Bread Knife:  "The ONLY breadknife for the Zombie  Apocalypse!"
Knife Type: Kitchen Cutlery
Blade Style: Bread Knife, Curtain Serrations
Blade Length: Approx 10 1/8 inches (25.72 cm)  
Total Length: Approx 15 inches (38.1 cm)  
Weight: 12.8 oz (363 grams)  
Blade Material: Böhler 440C Differentially Tempered Stainless Steel 
Bolster Material: AISI 304 Stainless Steel
Blade Grind: Medium theater curtain serrations 
Blade Thickness: 2.5 mm
Blade Finish: Gloss 
Tang: Full Tang
Ricasso: Yes 
Choil: No
Handle Pins: 3 medium pins
Handle Material: Black Laminated Stabilized Wood (i.e., a Pakkawood/Dymondwood™-style material)
Grip Style: Ergonomic double concave
Balance Point:  Forward (i.e., like a professional Chef knife)
Designed by: Modell Design LLC
Sheath: Red display box only; no sheath
Product is a hand made knife.  All measurements and weights approximate.
This superb kitchen knife is designed to slice through those difficult to cut hard breads (i.e., rye) with minimal muscle work on the user's part.  Expect to be able to slice much thinner slices of rye bread without tearing the bread using this knife than with a conventional bread knife.  It is also a great general purpose kitchen knife, dinner table conversation piece, and even saved one barbecue!
 
This knife is part of a single limited run of 50.  It is stamped with the designer's signature rather than one of our normal logos, so it is highly collectible.
 
The knife is made out of high quality Austrian (they have plants in several countries including Germany) stainless steel that meets the specifications for grade 440C (440C is the steel of choice on the best custom kitchen knives).  This steel is not suited for mass production on thin knives due to its high potential hardness (versus a softer steel with more resilience).  We solved this problem through differential tempering.  If you know of another stainless steel knife with differential tempering please let us know.
 
The knife features wide theater curtain style serrations rather than the usual small indents.  We believe this makes for a more aggressive, more powerful cutting blade and adds to the unique look of this custom designed product.  It can be re-sharpened using a Spyderco(R) Tri-Angle Sharpmaker sharpening system following the directions on the instructions disk for sharpening serrated edges (basically using the edge of the triangle stones rather than the flat, and moving your hand slowly) and being careful not to hurt yourself!  The sharp edge is gently curved to dig into the loaf and allow for a natural arc of the cutting arm.
 
This bread knife is heavier than the typical bread knife, and has a forward point of balance, so the weight of the bread knife itself contributes to the cut and reduces the extent to which the user has to "muscle" the knife.  This is of great importance when cutting tough loaves of bread or other serious meats.  It is something a professional Chef would want that few knife makers understand or bother with.  The flat of the blade, which is unusually large for a bread knife, provides the extra weight.  We have cut several artistic drag reduction circles out of it (one step beyond dimples) so that it will not get stuck in the bread.
 
Our bread knife has an extended front bolster.   You can rest a thumb or index finger on it for added power and control.
 
The handle is made out of attractive, functional laminated stabilized wood product.  As much as we love ebony, the laminated stabilized wood is less porous and that is important in the kitchen.  The handle width varies in light of the shape of the palm, and has two underbelly concavities that can be used to backstop the fingers.  The spine of the handle curves down.  Not only does this accommodate the shape of the palm, but it also aligns the palm with the blade when pushing and avoids uncomfortable extension of the wrist characteristic of normal handles aligned with axis of the blade. 
 
The knife comes in an attractive red gift box but has no sheath.
 
This knife has been called cool and even sexy, but it can really cut.
 
(P.S. -- Your #1 kitchen utentsil for Zombie Defense!)
 
SPECIAL BREAD KNIFE WARNINGS: 
Very Sharp!
Never, EVER, cut a bagle towards your hand (and do not let anyone who does that touch this knife)!  Not Dishwasher Safe!  This is weapon's grade stainless steel, which means it should be cleaned promptly after every use to minimize tarnishing.  Clean by rinsing, use non-acidic detergent (most liquid dishwasher soaps qualify), brush gentley from spine towards cutting edge while held under running water to remove debris.  Dry immediately after (and don't push the cutting edge towards the towel or yourself when doing so).
CONSTRUCTION QUALITY:
Made to the same functional standards as our combat-grade knives.  Note that wood and even stabilized wood does shrink, that there has been some natural shrinkage of the handle scales and that consequently you can feel the edges of the tang.  This is normal (and a dirty little knife-maker's secret).  
Examine photo carefully as it is representative of the quality you will receive. These knives were made several years ago (we don't have many remaining) and the first thing done by Iron Man Steel Forge for Modell Design LLC. The forge's capabilities have increased dramatically since then to and including an eleven step custom-grade high gloss finish we use on most of our current $1,000 plus products.  You will see the indent where the bolsters meet the tang, and may see a tiny cosmetic pit somewhere other than the blade.  That is accounted for in the price.
IMPORTANT: Read our 
Legal Section
 prior to purchase!