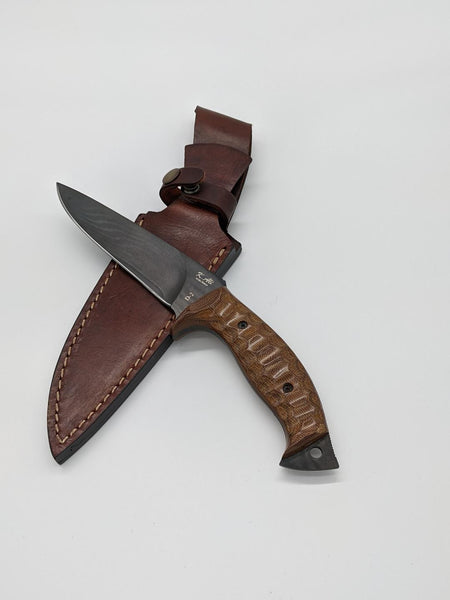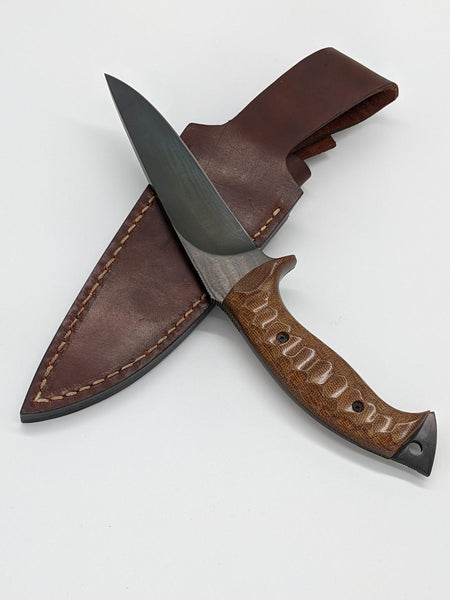 Snark (Böhler Uddeholm D-2 Tool Steel, Black TiNi)
Regular price
$249.99
Sale price
$185.00
---
Product is a handmade knife.  All measurements and weights approximate.
Knife Type
: Combat
Blade Style:
 Drop Point
Blade Length:
 Approx 6 inches
Total Length:
 Approx 11 1/4

 inches

 
Weight:
 10.1 oz
Blade Material: 
Böhler Uddeholm D-2 Tool Steel
Hilt/Butt Cap
 Material:
 N/A
Blade Grind:
 Hollow Grind
Blade Finish:
Black TiNi
Blade Thickness:
 6mm
Tang
: American-style Full Tang
Ricasso:
 Yes  
Choil:
N
Glass Breaker:
Yes
Handle Material:
 Brown Micarta(TM) 
Grip Style:
 Ergonomic with Belly, Angled
Designed by:
 Modell Design LLC, Michigan, USA 
Maker:
 Forge Master K. Ali at M/S Ironman Steel at his family-owned Blacksmithy established 1968 in Pakistan.  He is the third-generation Forge Master. All sheaths, scabbards and soft cases are outsourced.
Sheath:
 Brown Leather. 
Do not store knife in leather sheath long term because the chemicals in leather can corrode/tarnish metal.
Description: We designed this knife as a high-quality solution for military and contractor personnel subject to a combat environment. Certain combat knives provided by other makers are, in our opinion, fine for camping but not self-defense because the blade is in the 5" range whereas a 6" blade is generally regarded as the minimum needed to penetrate vital organs. While a 7" blade is better for recon work where you might have an opportunity to draw the blade prior to engagement (i.e., proactively), a 6"-range blade is more suitable for most non-combat tasks, easier to draw when you are in a reactionary mode, and sufficiently long for self-defense. Another problem we see with some competitor's knives is the lack of solid protection to prevent the hand from sliding up onto the cutting edge once the handle is soaked with blood. You can certainly design a better-looking knife by truncating the lower hilt quillon, and it is fine for much light use, but what good is a combat knife if it fails the one time your life depends on it? When designing the handle, we also focused on what works best rather than what is easiest to machine, cheapest to make, or looks good but is sub-optimal. The blade is D-2 Tool Steel.

D-2 Tool Steel is regarded by many experts as the best carbon steel for knives. It is used in dies that cut other steels and very resistant to corrosion for a carbon steel.  Although it is a major pain to sharpen, D-2 takes a fine edge and holds it for a long time.
The convex grind and flat grind certainly have their place for camping and utility tasks since there is a lot of steel supporting the cutting edge. The hollow (concave) grind, however, is sharper and more appropriate for the actual task of self-defense. This knife has a hollow grind combined with an ultra-tough steel.

The knife shown are what you will get so if you have any questions ask them before ordering.
IMPORTANT: Read our 
Legal Section
 prior to purchase!