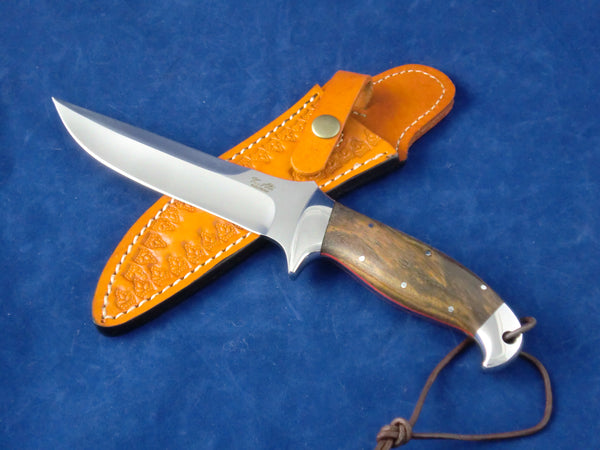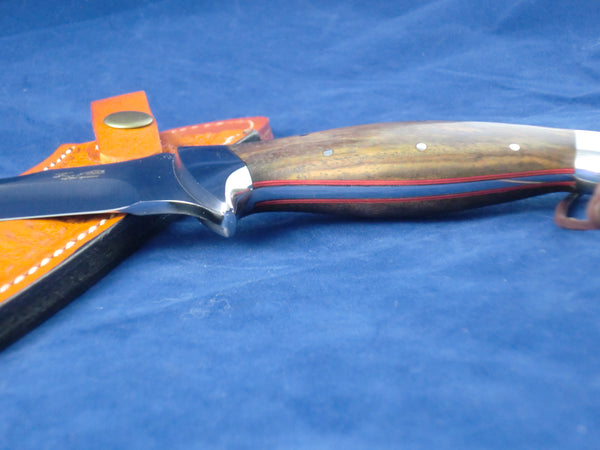 Slim PEW Persian (Böhler-Uddeholm D2 Tool Steel, Local Ironwood)
Regular price
$325.00
Sale price
$275.00
---
Product is handmade.  All measurements and weights approximate. 
Knife Type:  Combat
Blade Style: Persian
Blade Length: Approx. 6"
Total Length: Approx. 11 1/8"
Weight: Approx. 8.6 oz  
Blade Material: Böhler-Uddeholm High Carbon, High Chromium D2 Tool Steel  
Hilt/Bolster Material: AISI 304 Austenitic High Nickel, High Chromium Stainless Steel
Blade Grind: Hollow Grind, Blunt Swage
Blade Thickness: 0.17 inches; 0.15 inches at Ricasso
Blade Finish: Satin Finish 
Tang: Full Tang, Tapered
Ricasso: Yes  
Choil: No
Handle Pins: 6 small tactical pins
Handle Material: Local Ironwood (Hardwood) w/Red Liner
Grip Style:  Ergonomic 
Balance Point: At intersection of front bolster and handle scales
Designed by: Modell Design LLC
Made by: Forge Master K. Ali
Sheath: Embossed, Brown Leather. Do not store knife in leather sheath long term because the chemicals in leather can corrode/tarnish metal.
Description: The PEW and the Fat Belly PEW were developed with input from ex-special forces, law enforcement and contractor operatives.  The Fat Belly PEW is especially good for comfort and retention but a bit oversize for a six-inch blade.  The original PEW handle is normal sized but has been renamed as "slim." This knife has the slim PEW handle.
This is a full tang combat knife with AISI 304 stainless steel bolsters. The Blade Steel is Böhler-Uddeholm D2 Tool Steel, which is used to make dies.  The swage is blunt for tip strength and to avoid dagger law issues.  It sweeps up towards the tip making this a "Persian" style knife, in our opinion.  There is gimping on both sides of the thumb rest.  The handle is ergonomically shaped for easier retention.  The scales are made of an ironwood local to the forge.  It is very stable for an affordable hardwood but NOT from Arizona and NOT Arizona Desert Ironwood.
The knife shown are what you will get so if you have any questions ask them before ordering. 
Age 18: You must be at least 18 years of age to purchase this product. By placing an order for it, you are representing to Modell Design LLC that you are least 18 years of age.
IMPORTANT: Read our 
Legal Section
 prior to purchase!