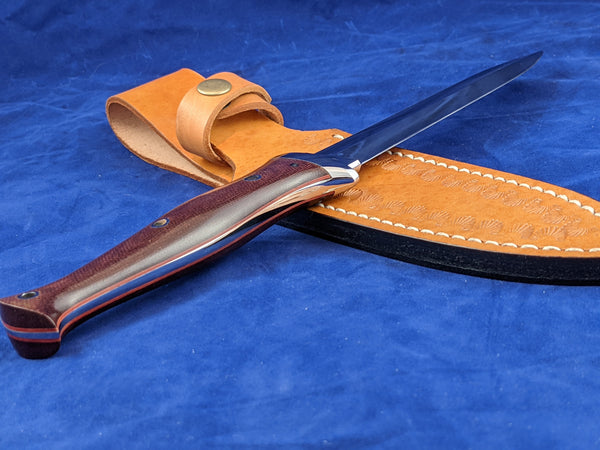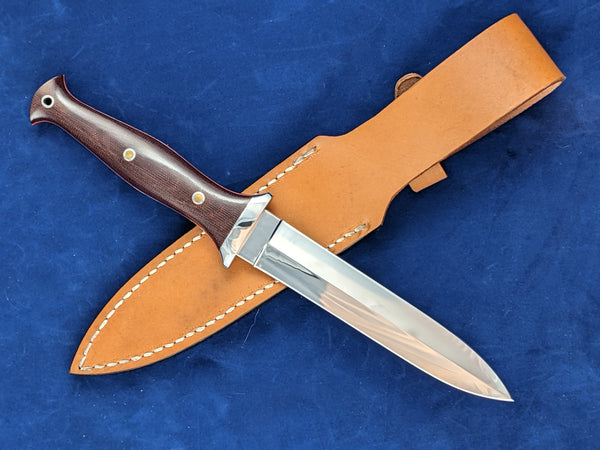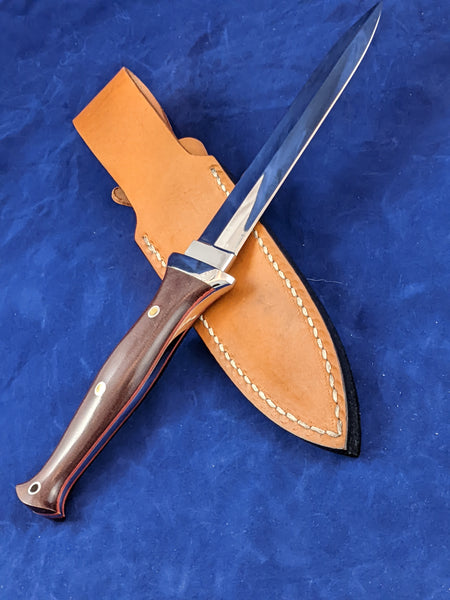 Forge Master Dagger (Böhler Uddeholm D2) (Second)
Regular price
$275.00
Sale price
$169.99
---
Product is handmade. All measurements and weights approximate. 

 Knife Type
:  Fighter
Blade Style:
 Dagger (subject to Dagger Laws)
Blade Length:
 Approx. 6 3/16"
Total Length:
 Approx. 11 1/2"

 

  
Weight:
 Approx. 8.2 oz   
Blade Material:
 Böhler Uddeholm D2 Carbon Tool Steel 
Hilt/Bolster
 Material:
 AISI 304 Stainless Steel
Blade Grind:
 Hollow Grind 
Blade Thickness:
 4.7 mm
Blade Finish:
 Mirror Finish 
Tang
: Full Tang, Tapered
Ricasso:
 Yes 
Choil:
No
Handle Pins:
 2 Loveless Bolts, Steel Cylinder-Lined Lanyard Hole
Handle Material:
 Maroon (looks Brown) Micarta(TM) w/Red Liner
Grip Style:
  Ergonomic 
Balance Point:
Combat
 (between the hilt and the nearest Loveless Bolt)
Designed by:
 Forge Master K. Ali
Sheath:
 Embossed leather sheath made by third-party. Do not store knife in leather sheath long term because the chemicals in leather can corrode/tarnish metal. 

This is the Forge Master's personal dagger design, a variation on the traditional Bob Loveless Dagger.  The lip of the quillon is wider.  The handle tapers more dramatically and the butt flare is very pronounced.  It looks like an up-side down Coca Cola(R) bottle.  The handle scales are made of what is technically a Maroon Micarta but it looks Brown to us. The knife in the photos is the knife you will get. The blade is see-yourself glossy (mirror finish) Böhler Uddeholm D2 Carbon Tool Steel professionally tempered to HRC 58.  D2 is recognized by many top knife makers as the best carbon steel for knives.  The hilt is made of AISI 304 stainless steel, the best material for bolsters but seldom used by even top custom knife makers due to the difficulty of working with it.  Value added features include a tapered tang with red liners, a steel cylinder-lined lanyard hole and brass/steel Loveless Bolts.
IMPORTANT: Read our Legal Section prior to purchase!