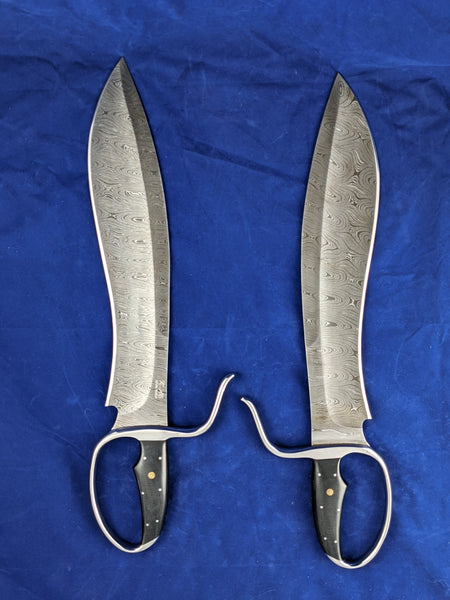 Randall Sasquatch-Style Butterfly Swords (Approx. 14" Blade) (Damascus) (Collector Grade)
RARE: Collector-Grade!
Made by hand. All measurements and weights are approximate. 
Sword Construction
: Conventional
Blade Style:
 Unique/Custom - Kukri
Blade Length:
 Approx. 14"
Total Length:
 Approx. 18 3/4"
Weight:
  Approx. 1 lbs 12.9 oz and 1 lbs 12.5 oz for the knives, respectively
Blade Material:
 Damascus
D Guard Material:
 Cast AISI 304 stainless steel
Blade Grind:
 Very wide Hollow Grind culminating in wide sharp "V" edge, swage
Blade Sharpness:
 Cutting edge is martial-arts sharp. Sharps are for display only, too dangerous for training. Swage is blunt.
Blade Thickness:
 Approx. 5 mm maximum
Blade Finish:
 N/A. The D Guard is mirror finish and, unfortunately, you can see the photographer's reflection on the D Guard in a number of the pics.
Tang
: Full tang
Ricasso:
 Yes
Choil:
 Yes
Quillion Design:
 Hybrid (can flip and trap)
Knuckle Bow Design:
 Rounded
Handle Type:
 Full Handles
Handle Pins:
 6 small tactical pins plus 1 Mosaic pin
Handle Material:
 Black Micarta w/Black Liners (textured black on smooth black)
Grip Style:
 Full handles with two concavities (i.e., index finger indent and hollow area for remaining fingers)
Balance Point:
 Conventional to permit flipping
Designed by:
 Modell Design LLC
Sheath:
 You will get left and right brown leather sheaths, each with a retainer strap. These are made of thick leather and very sturdy (as opposed to a traditional historical soft and floppy sheath). Do not store swords in leather sheaths long term because the chemicals in leather can corrode/tarnish metal. 
Designed by:
 Modell Design LLC, Michigan, USA 
Maker:
 Swords made by Forge Master K. Ali at M/S Ironman Steel at his family-owned Blacksmithy established 1968 in Pakistan.  He is the third generation and, in our opinion, the foremost maker of high-end butterfly swords in the world. All sheaths, scabbards and soft cases are outsourced.
Description: Perhaps the most difficult to make Randall knife is the big Sasquatch re-curve designed by Randall Dealer Doug Kenefick. Doug, after noting his design was inspired by the work of Rod Chappel and Gil Hibben, gave Jeff Modell of (Modell Design LLC) his blessing to adapt the Sasquatch blade for Wing Chun chopper-style Butterfly Swords.

When first crafted, Modell Design LLC's Sasquatch Butterfly Swords knives had the most complicated set of grinds ever done on modern Chinese Butterfly Swords (and any surviving antiques that have come to our attention). It is extraordinarily difficult to achieve the lengthy intersection line of the primary grind and long swage. First place for difficulty has been given up to Modell Design LLC's Nightmare Grind Butterfly Swords and their concave/convex Bowie Lt. design, but these are still a BJD milestone.
This is one of Modell Design LLC's new Sasquatch "Light" models that shaves a bit of weight off the original design for easier handling.
IMPORTANT: Read our 
Legal Section
 prior to purchase!