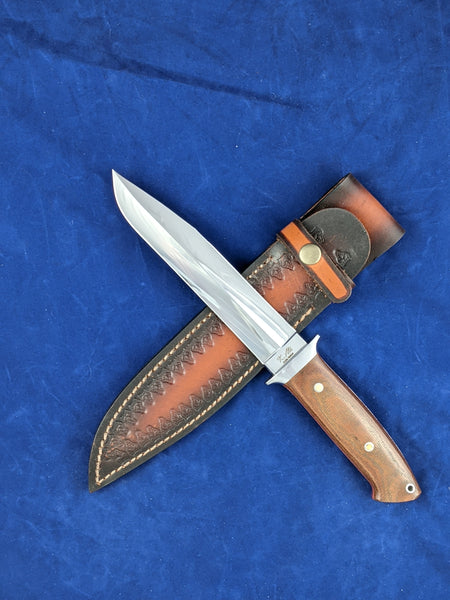 Loveless-Style Dixon Fighter (Böhler Uddeholm D2) (Brown Micarta)
Product is handmade.  All measurements and weights approximate. 
Knife Type: Fighter
Blade Style: Loveless Style Straight Edge Clip Point/Sharp Swage
Blade Length: Approx 7 1/8 inches 
Total Length: Approx 12 3/8 inches 
Weight: 9.8 oz  
Blade Steel: Böhler Uddeholm High Chromium, High Carbon D2 Tool Steel 
Hilt/Bolster Steel: AISI 304 Austenitic High Nickel, High Chromium Stainless Steel
Blade Grind: Hollow Grind 
Blade Thickness: 0.20 inches
Blade Finish: Gloss Finish 
Tang: Full Tang, Tapered
Ricasso: Yes  
Choil: No
Handle Pins: 2 Brass/Steel Large Pins, Steel Cylinder-Lined Lanyard Hole
Handle Material: Brown Micarta, Red Liners
Grip Style:  Ergonomic
Balance Point: Where the hilt meets the handle scales
Designed by: Bob Loveless
Maker: Forge Master K. Ali at M/S Ironman Steel at his family-owned Blacksmithy established 1968 in Pakistan.  He is the third-generation Forge Master. All sheaths, scabbards and soft cases are outsourced.
Sheath: Loveless-Style Leather Sheath, Two Tone, Embossed. Do not store knife in leather sheath long term because the chemicals in leather can corrode/tarnish metal.
Description: Knife legend Bob Loveless designed the "Dixon Fighter" knife. At maximum length it is one serious pig-sticker; this one is a bit shorter and more the length appropriate for most combat users.  This specific knife feels great in the hand.  The swage is about as sharp as an axe blade (too sharp and you get a weak tip), which means that for law enforcement purposes this will likely be regarded as a dagger-style weapon.  
Böhler-Uddeholm D2 Carbon Tool Steel is recognized by many top knife makers as the best carbon steel for knives.  The blade of this Dixon Fighter is gloss finish Böhler-Uddeholm D2 Carbon Tool Steel, professionally tempered to HRC 58.  It is extremely difficult to put a true mirror finish on D2 steel. Forge Master K. Ali can do it, but it takes a lot more work and would force us to charge a higher price. The finish on this knife is see-yourself glossy. It differs from a true mirror finish in that you can see background polish lines. The hilt is made of AISI 304 stainless steel, which is the best steel for knife fittings but so difficult to work with only a few top-end custom knife makers are willing to use it. The blade has a gentle distal taper offsetting the quite visibly tapered tang. 
The instant knife offers a truly famous design, and an excellent balance of quality and value.
The knife shown are what you will get so if you have any questions ask them before ordering.
IMPORTANT: Read our 
Legal Section
 prior to purchase!